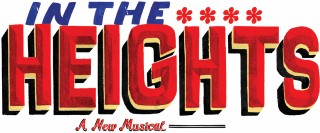 Tickets for In The Heights are available online at nstw.tix.com
A Christmas Story, The Musical
December 1-3 and 8-10, 2017 at Theatre Tallahassee
New Stage Theatreworks presents the Tallahassee premiere of an exciting new dimension to the movie classic that runs round-the-clock on television every Christmas. From the musical team of Pasek and Paul (Edges, James and the Giant Peach, Dogfight), this Tony-nominated musical will excite those who have seen the movie and will certainly stand on its own for those who haven't. Set in the 1940s in the fictional town of Hohman, Indiana, we follow 9-year-old Ralphie Parker and his quest for the Holy Grail of Christmas gifts – an Official Red Ryder carbine-action 200-shot Range Model air rifle. Rebuffed at every turn with a similar echoing response, Ralphie plots numerous schemes to achieve his dream gift. All the iconic scenes from the movie are here: tongues stuck to flagpoles; Randy in his snowsuit; bullies Farkus and Dill; the leg lamp award; the bunny suit; the Chinese restaurant; Christmas dinner; and many others. You'll want to shoot your eye out if you miss this show!
Book by Joseph Robinette. Music and lyrics by Benj Pasek and Justin Paul. Based on the motion picture A Christmas Story distributed by Warner Bros., written by Jean Shepherd, Leigh Brown and Bob Clark, and upon In God We Trust: All Others Pay Cash written by Jean Shepherd. Produced with permission of Warner Bros. Theatre Ventures and Dalfie Entertainment.
Originally Produced on Broadway by Gerald Goehring, Roy Miller, Michael F. Mitri, Pat Flicker Aldiss, Peter Billingsley, Timothy Laczynski, Mariano Tolentino, Jr., Louise Beard, Michael Filerman, Scott Hart, Alison Eckert, Bob Bartner, Michael Jenkins, Angela Milonas, and Bradford W. Smith.
Produced by special arrangement with THE DRAMATIC PUBLISHING COMPANY of Woodstock, Illinois.
Green Day's American Idiot
July 13 – 15 and 20 – 22, 2018 at Theatre Tallahassee
Music by Green Day. Lyrics by Billie Joe Armstrong. Book by Billie Joe Armstrong and Michael Mayer
From a BB gun to "21 Guns", New Stage Theatreworks presents the Tallahassee premiere of the two-time Tony Award-winning electric-rock musical of youthful disillusion. Johnny, Tunny and Will struggle to find meaning in a post-9/11 world. When the three disgruntled men flee the constraints of their hometown for the thrills of city life, their paths are quickly estranged when Tunny enters the armed forces, Will is called back home to attend to familial responsibilities, and Johnny's attention becomes divided by a seductive love interest and a hazardous new friendship. This high-octane show includes every song from Green Day's album, American Idiot, as well as several songs from its follow-up release, 21st Century Breakdown. Get ready to whip out your guy-liner, leathers and pent-up angst for what Charles Isherwood of The New York Times declared "thrilling, emotionally charged, and as moving as any Broadway musical I've seen this year!"
Green Day's American Idiot is presented through special arrangement with Music Theatre International (MTI). All authorized performance materials are also supplied by MTI, 421 West 54th Street, New York NY 10019 Tel,:(212) 541-4684 Fax: (212) 397-4684 www.mtishows.com
New Stage Theatreworks will be holding

auditions

on

May 21 & 22

at

7:00pm

for "

In

the

Heights

", music and lyrics by Lin-Manuel Miranda, and book by Quiara Alegría Hudes. We are seeking talented individuals from our culturally-diverse community to join us for this musical's Tallahassee premiere – running

July 7-16

.

N THE

HEIGHTS

tells the universal story of a vibrant community

in

New York's Washington

Heights

neighborhood – a place where the coffee from the corner bodega is light and sweet, the windows are always open and the breeze carries the rhythm of three generations of music. It's a community on the brink of change, full of hopes, dreams and pressures, where the biggest struggles can be deciding which traditions you take with you, and which ones you leave behind.

IN

THE

HEIGHTS

is the winner of the 2008 Tony Awards for Best Musical.
This production is directed by Krystof Kage, with musical direction by Andy Lagrimas and choreography by Ashlee Benson.
_______


Audition

Specifics:
For

auditions

, please prepare 16 bars of a song and bring/wear clothes that are comfortable for a dance

audition

. Piano accompaniment will be provided. Songs from the show are discouraged. There may be a cold-reading portion with script sides to be provided at the

audition

.

For those wishing to be considered for Usnavi, Sonny, Benny or Graffiti Pete: Please prepare an original rap, to be performed a capella, that lasts no more than 30 seconds. We are looking for skills – diction, inflection, speed and movement should be highlighted.

Should they be necessary, callbacks will be held by invitation only on May 23 at 7:00pm at a different location.
________
Roles:

[USNAVI] Male, 24, Dominican. Owner of De La Vega Bodega, his parents emigrated from the Dominican Republic and have since passed away. The play's narrator and the eyes and ears of his Washington Heights neighborhood. Loving, charming, charismatic, witty, hard-working, and loyal.
Strong actor, excellent rapper and good singer, high baritone/tenor to G4.

[NINA] Female, 19, first generation Puerto Rican-American. Freshman at Stanford. Intelligent, hard-working, and driven. Trying to make her family proud while navigating adulthood. A beacon of hope and inspiration to all who know her; she represents the opportunity outside of "the heights"
Strong belt/mix to an E.

[KEVIN] Male, 40's, Puerto Rican, emigrated to NY. Nina's father. Owner of Rosario Car Service. Upstanding, proud, and devoted patriarch who is hard-working and verging on worn down. He is stubborn, hot tempered at times and can be quick to act without thoughts of repercussions. Stands firm in his beliefs and traditions.
Strong baritone to E4.

[CAMILA] Female, 40's, Puerto Rican. Nina's mother. Co-owner of Rosario's. A smart, sharp tongued, fierce, and loving mother.
Strong singer-belter (G3-B4)

[BENNY] Male, 24, African-American singer/rapper. Rosario Car Service employee. Attractive and masculine with an air of lingering boyish energy. He once was a street punk and hoodlum. Kevin saw promise and helped shape him into a responsible, hard-working young man. Driven, aspiring businessman.
Excellent rapper and pop tenor voice to Ab4.

[VANESSA] Female, 19-24. Latina shampoo girl at Daniela's Salon. Beautiful, vivacious, sexy, driven and intelligent with a strong sense of humor. She wants to get out of the barrio, worldly and urban.
Strong dancer with an excellent high belt to E5.

[SONNY] Male, 16, Dominican. Usnavi's cousin. Streetwise yet a goofball. Charming and adorable, he feigns a persona of perceived cool masculinity. He is someone that needs guidance or risks ending up a street punk.
Strong comedic timing, excellent rapper and tenor to Bb4.

[ABEULA CLAUDIA] Female, mid-late 60's, Cuban. Raised Usnavi though not his blood grandmother. Loving matriarch for the entire community. Deeply loving and unwaveringly optimistic with a surprising sense of humor. Full of wisdom, life experience, memories and years of hard work.
Excellent singer and belter (f#3 to C5).

[DANIELA] Female, 30's-40's. Puerto Rican owner of Daniela's Salon. Brash, funny, and outspoken. Meticulous about her physical appearance. the gossip queen of the neighborhood.
Excellent singer with strong comedic timing. Belter (G3 to C5).

[CARLA] Female, 20's-30's. Chile-Domini-CuRican who works at the salon. Daniela's sidekick. Sweet and likeable. Strong in her faith, she is a pure, sweet, innocent, and loving woman who is devoted to her family and friends though she is easily taken advantage of because of her naivety.
Strong dancer and singer with comedic timing.

[GRAFFITI PETE] Male, 18-20's. Local graffiti artist. Sonny's best friend. Always hanging out on the streets, dancing to his boom box music, spraying any surface he can. Must have "swag".
Fantastic Hip Hop dancer, rapper/singer; break dancing skills and acrobatics are a plus.

[PIRAGUA GUY] Male, 30's-40's. Puerto-Rican. He walks the hot and humid streets of Washington Heights selling piraguas (flavored ice shavings) to earn a living. Strong sense of humor and great sense of pride. A local institution.
Excellent high tenor with sustained A4.

[FEMALE ENSEMBLE] To play various ages, ethnicities, and members of the local community. Residents of Washington Heights. Strong hip-hop and Latin dance skills are a plus. Excellent singers/dancers (dance in multiple styles – Latin to hip hop).

[MALE ENSEMBLE] To play various ages, ethnicities, and members of the local community. Residents of Washington Heights. Strong hip-hop and Latin dance skills are a plus. Excellent singers/dancers (dance in multiple styles – Latin to hip hop).
___________________________________________
*While diversity will be emphasized in the ensemble, the director has chosen to make every effort to cast all lead roles with talent that has cultural roots similar to the author's intentions. For questions about this effort, please feel free to email the director at krystofkage@gmail.com.